Affordable $29 Emergency Visit
The last thing you need when you are having a dental emergency is to worry about the price. We make coming to our office for urgent dental care affordable. For only $29, you will get the required x-rays and evaluation needed to diagnose your current dental issue. From there, our dental team will work with you to implement the most appropriate solution for your long-term dental health. So call our dental emergency hotline at 972-915-0400 today and get relief.
Emergencies We Solve
Chipped or Fractured Tooth

Lost, Loose, or Broken Crown

Broken Denture or Partial Denture
Many of our patients tell us they chose our practice because of our excellent Google reviews. Find out what people are saying about Independence Dental here.
[wpbr_collection id="867"]
Emergency Dental Care
We recognize dental emergencies rarely happen at a convenient time. Accidents that lead to broken or chipped teeth as well as toothaches that cause severe dental pain cannot be planned. When you need urgent dental care, call Independence Dental's dental emergency hotline, 972-915-0400.
Whether you are a current patient or someone who needs help, our team will take the time to resolve the situation – most often with a same-day appointment and even same-day treatment. Over the years, we have helped hundreds of your friends and neighbors save their teeth (even some who thought they needed a tooth extraction) and get out of dental pain. Pick up the phone. We are ready for your call.
Why Independence Dental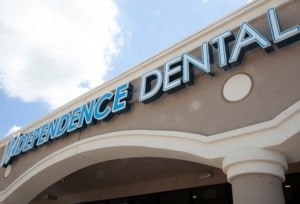 With 15 years of experience, Dr. Nastassia Ulasik provides the highest level of dentistry to patients across North Texas. She and her team offer exceptional dental care that fits your schedule. We always try to accommodate same-day appointments and walk-ins, and we welcome new patients.
From McKinney to Dallas, we take great pride in treating every patient as though they are a member of our family. Our state-of-the-art practice is equipped to provide immediate answers and proven solutions to even the toughest dental problems.
We accept most insurances including Medicaid. At Independence Dental, we work to maximize your dental benefits plan. No insurance or not enough coverage? No problem. We also offer multiple financing options – plans that are flexible and budget-friendly! Don't let finances stop you from getting the treatment you need.
Typical Dental Emergencies
Tooth Knocked Out. If your tooth is knocked completely out of your mouth, the best thing to do is to hold the tooth by the crown (the upper part), and gently rinse it in water. If you are able to place it back in the socket until you get to our office, do so. If not, then place the tooth in a small container of milk and bring it with you. Rinsing your mouth with warm water can help reduce the pain.

Severe Toothache. To determine what is causing your toothache, we'll need to have you come to the office. Before you arrive, you may be able to reduce the pain by gently flossing around the tooth to remove any particles of food that may be present, and rinsing with warm water can help also.

Broken or Chipped Tooth. Sometimes accidents happen that result in a broken or chipped tooth. Or perhaps you bit down onto a piece of food or hard candy, and your tooth cracked or a portion of a tooth broke off. The dentist can best assess the next steps to restore your tooth, so coming to the office as soon as possible is the best course of action. You can rinse with warm water and use non-prescription painkillers to relieve any pain before you get to our dental office.

Abscessed Tooth. An abscessed tooth is one that has an infection in either the root or the nearby gums, and can be very painful. The infection will not go away by itself. If left untreated, it can spread to other areas, so be sure to get seen by the dentist as soon as possible. You can use an ice pack to reduce swelling, and non-prescription painkillers to manage the pain until you get to the office.

Lost or Broken Crown or Filling. As fillings age, they can loosen and fall out. And biting into food can sometimes cause a crown to break or fall out. If either of these happen, you will likely find the remaining tooth/area will be very sensitive to temperature and even air. Bring the crown or filling with you to our office if you have it.
Where to Find Us
Located in the heart of Plano – near the President George Bush Turnpike and I75 – our practice is a short drive from anywhere in North Texas. We welcome many patients from as far away as Melissa and Garland, and we work hard to make our dentistry worth the trip. We welcome walk-ins to our dental office as well as those calling our dental emergency hotline, 972-915-0400, for a same-day appointment.
Office Hours
9:00 am – 6:00 pm
9:00 am – 7:00 pm
Closed
9:00 am – 6:00 pm
8:00 am – 5:00 pm
8:00 am – 2:30 pm
Hablamos Español
How to Get Started
Thank you for taking the time to consider Independence Dental. We understand you may be in pain and in need of immediate attention, and we look forward to having the opportunity to speak with you and to meet in person. Please give us a call today!
Serving Plano & More
While we are located in Plano, our dental office is near enough to Frisco, McKinney, Melissa, Carrollton, Richardson, Garland, and Dallas that we're happy to meet the oral health care needs of those in the surrounding communities.