Beautiful Smile Makeovers from your Cosmetic Dentist in Plano!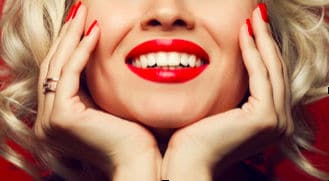 The holiday season is just around the corner — and it's likely to be filled with friends, family, hot wassail, and loads of turkey, decorations, and perhaps photo sessions. Our community is slowly preparing for a festive season, but is your smile ready to celebrate? If you are dissatisfied with your front teeth, your dentist in Plano offers a complimentary smile makeover consultation, so you can achieve the smile you've always wanted!
What Is a Smile Makeover?
A smile makeover is when you completely restore and enhance your smile's appearance by utilizing a comprehensive solution. Maybe you have gaps or spacing between teeth, chipped teeth, white or brown spots, or discoloration. If you can't freely smile in your family photos, your cosmetic dentist in Plano will design great options to enhance your smile. Start your smile makeover right now, and it's even possible to achieve a stunning smile just in time for holidays!
What Can I Expect in the Complimentary Consultation?
The first thing to do is schedule your free smile makeover consultation. During this appointment, Dr.Ulasik will review your health history, dental history, and discuss your ultimate goal. Questions may include the following: How do you see your smile right now? Whose smile looks the most attractive to you? Sometimes patients share their own Facebook and Google photos to show what they like or dislike about their smile on certain photos. As your trusted dentist in Plano, Dr.Ulasik will evaluate your teeth and all the restorations and then present you with multiple custom options. She will also provide an exact estimate for cosmetic dental treatment so you know exactly what to budget for.
Custom Smile Design
Why it is important to customize the design of your smile? Because your options can vary depending on what your ultimate goal is. For example, full mouth reconstruction may be a great solution for one patient — but braces before a smile makeover will be the best choice for somebody else. Custom treatment options will be designed by your cosmetic dentist in Plano to fit your personal needs. After discussing alternatives, benefits, and stages of multiple treatment options, together with your dentist in Plano, you will pick custom dental cosmetic options to meet your goal.
Smile Makeover Approaches
Dental implants, which are a great solution for missing teeth.
Porcelain Veneers, thin coverings of dental porcelain
Dental bonding, an alternative to thin porcelain veneers
Lumineers, similar to porcelain veneers
Gum Countering, change in shape of gums in order to change the length of teeth
Braces
Other cosmetic treatments, restorative and orthodontic options
Two Months vs. Two-Year Smile Makeover Treatments
Since there are multiple ways you can approach your smile makeover, you and your dentist in Plano will decide which choice you will be moving forward with. For example, there are some cases where there is an issue with the bite. In order to properly fix the bite, orthodontic treatment is usually recommended. Once you've completed your orthodontic treatment, your smile will be evaluated again. Depending on what you discussed with your cosmetic dentist you will decide on the next step. Then there are cases when you don't have to go through orthodontic treatment because the bite is just right — but the tooth shape or chipped teeth are the primary concern. In these cases, porcelain veneers will be suitable to achieve a stunning smile.
Begin Your Journey to a Beautiful Smile Today!
Contact Independence Dental to find out if you can benefit from smile makeover consultation. We can't wait to get you the smile you've always wanted to achieve! Request your appointment for complimentary smile makeover consultation online today!