When Should Your Child Get Braces in Plano, TX?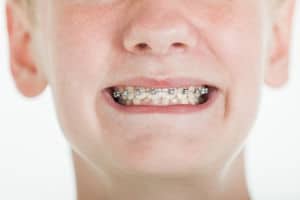 Do you see kids having some kind of orthodontic appliance as early as 7 these days? Sometimes, you see kids wearing different types of braces, wires, or other orthodontic appliances and you may think that it's too early for braces. Actually, there is a term in orthodontics called two-phase orthodontics, which is great for children. Two phase orthodontics helps your kid's bite form properly. Read to learn about the best time for braces for your kids from your braces dentist in Plano.
Why Kids Should Have a Braces Consultation Around Age 7
The American Association of Orthodontics recommends that kids have their first orthodontic braces consultation around the age of 7. At 7 years old, kids have some of their permanent teeth, such as four central incisors and 4 permanent molars, but their jaw is not fully formed yet.
Early intervention when the jaw is still growing can reduce future treatment times with braces. Sometimes after phase one, kids don't need braces anymore and the whole phase two orthodontics can be eliminated. This is the treatment method called two-phase orthodontics. The first phase is when their first permanent teeth have erupted. The second phase is right after the final primary tooth has been lost. The goal of the first phase of treatment is to develop the jaw size in order to accommodate all of the permanent teeth as well as to relate the upper and lower jaw problems as they grow and develop.
Two-Phase Orthodontics Summary of Benefits
Children grow rapidly, and with phase one orthodontic treatment, we can utilize appliances to guide teeth and the relationship between jaws.
Early correction of bite and guidance of teeth eruption ensures development of jaw size to fit all teeth and it will be stable throughout the patient's life.
Early correction can prevent removal of permanent teeth to correct overcrowding, prevent bite issues, and most importantly, prevent surgical procedures to align upper and lower jaws.
The second orthodontics phase is initiated when all permanent teeth have fully erupted.
The goal of the second phase is to make sure each tooth has an exact space and location in the mouth.
A successful first phase will have created room for permanent teeth to erupt when they otherwise would have become impacted or severely displaced.
We monitor your child during this time, and they will come see us every 8 weeks.
Preparing Your Child for Their First Braces Visit
The first orthodontic consultation shouldn't be anything to fear. During the appointment, you and your child's dentist near will have a conversation about your kid's smile. This allows your dentist to answer any questions that you may have about two phase orthodontics. If you decide to proceed with more orthodontic records, we will take digital x-rays to get a closer look at your child's bite and developing teeth. Let your child know it's perfectly fine to ask any questions he or she has during this appointment. We are happy to answer all of them!
Talk to Us Today!
If you have a 7-year-old or you'd like to get your older child started on their braces with a dentist near Richardson, Allen, and Frisco, please, don't hesitate to get in touch with Independence Dental. Request an appointment to discuss dental braces in Plano today.